فیلـتر
Showing 1–12 of 15 results

What is Steam Boiler?
Garma Tajhiz steam boiler is one of the significant  heating equipment in different industries.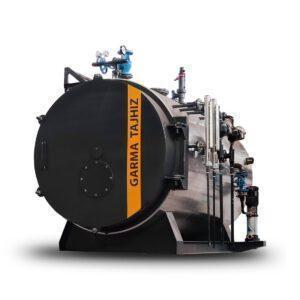 Steam Boiler Capacity
Here at Garma Tajhiz we design and build by the latest updates and professional standards that leads to real efficiency of 86 % and even higher.
The capacity ranges from 50 kg/h to 20 t/h.
These boilers would be built according to Auditory Organization's regulations and for different application.
Capacity varies from 50 kg/h to 500 kg/h for vertical type. For higher capacities we could only build the horizontal type.
Steam Boiler Standards
In Iran, standard regulations became mandatory for pressure vessels since  2002.
National Standard Organization requires all the manufacturers to comply with the standard regulations in the manufacturing processes. The standard we have to comply with is:
BS2790 – 1992 : Specification of design and manufacture of shell boilers of welded construction.
Designing of a steam boiler
The design and modelling we use for the boiler structure is horizontal type and wet back model which leads to higher efficiency and durability.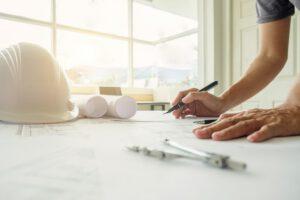 Stages of production
Cutting process and boiler production would start right after auditory organization's approval on technical drawings.
In production and implementation stages, different tests would be done by the supervisor of the auditory office in order to technically approve the product and to issue the certification.
These certificates and documents are presentable to ascertain our dear customers on their purchase.
Steam Boiler Welding in Garma Tajhiz
Pressure vessel welders must be the most professional for the delicacy of the product.
For that matter we benefit from the good work of  the best welders in town whom they hold the required certificates for pressure vessel welding.
These certificates would be issued after several auditory offices take some tests from welders and they would extend the certificates through the years by re-testing.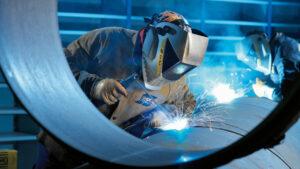 Steam Boiler pipes
One of the important parts in steam boiler production is the pipes applied in the boiler in order to supply suitable heat level . The pipes applied in Garma Tajhiz boilers are seamless and fire resistant. These pipes are being chosen in accordance with: DIN_17175_ST38.5
Thickness and diameter would be calculated according to standard drawings for different capacities.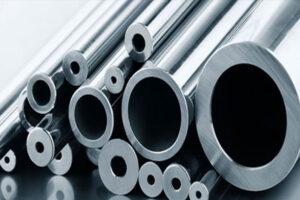 Electrodes
We use the top brand electrodes of the market  for all our pressure vessels (7018)
Automated welding
In some cases we use fully automatic welding machines for automated welding.
Pressure in Steam Boiler
Pressure varies from 4-25 bars in steam boilers.
The needed pressure depends on the application and usage, It plays an important role on how to design and produce the steam boiler.
Furnace
Garma Tajhiz boilers could be built with simple furnace or corrugated furnace. special thickness and design should be considered due to high temperatures.
For the furnaces longer than three meters corrugated furnace would be considered.
There is a huge possibility of destruction on boiler, if the furnace does not comply with standard regulations.
Steam Boiler Coating
Here at Garma Tajhiz we use steel or aluminum plates with high thickness and persistence.
Different usages of steam in Industry
Baking Industry
Concrete drying
Tomato Paste Production Line
Steam Sauna
Foam Production
Acacia Production
Dairy Cooking
Petrochemical and Chemical Industries
Pharmaceutical Purposes
اطلاعات بیشتر ...