Material and design for Deaerator storage tank
The main tank for two m3 Deaerator is manufactured in horizontal position with cylindrical shape. Two spherical caps are installed on both sides.
The material of the Deaerator plate is A516GR70 in accordance with ASME standard.
---
Deaerator holes
The deaerator with two cubic meter capacity is equipped with a man hole and a hand hole.
Applied holes and flanges in this vessel follow the standard for pressure vessels.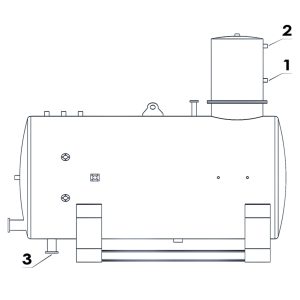 ---
Tests for two m3 Deaerator
Some non-destructive tests like RT, VT, UT and PT would be run on deaerators while manufacturing. In the end Hydro static tests would be done on the vessel at Garma Tajhiz.
Deaerator Insulation
After the final assembly on deaerator, we insulate the equipment with 5 cm of compressed rock wool which has the density of 80 kg / m3
---
Coating
Here at Garma Tajhiz we coat our deaerators with 304L stainless steel which has the thickness of 5.7 mm
---
Tower of two m3 Deaerator
One of the most important parts of deaerator is the tower which is produced in accordance with ASME standard by 304L stainless steel.
---
For more information on steam boiler click here
For more information on Hot water boiler click here