3D design is one of the fields that Garma Tajhiz is expert on, with principled designing, we gather beauty, harmony and efficiency to your place.
Pool application
A water pool in an artificial reservoir used for recreational, sports and scientific purposes.
Pool types
Pools are categorized as indoor or outdoor and private or public.
3D design parameter
For customized design, we consider both technical issues and employer's taste together.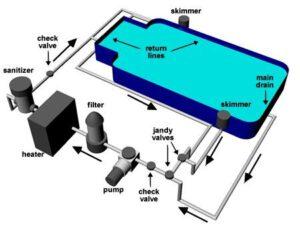 ---
Garma Tajhiz Designers
Architects of this company use the latest software and hardware available to design your private or public pool whether it is indoors or out.
These designs are being drawn according to your needs and measures.
Various usages for spaces
using some features could make a better appearance for your environment, like using retractable roofs for the design, using landscaping and water fountains to make a more relaxing area around your pool.
Pool and jacuzzi execution and implementation
Pool facility design would start right approval of presented landscaping design. Having a 3D design helps us to focus more on details and make sure to prevent costs like time consumption and redoing
In the 3D designing process we consider all aspects of engineering, practicality and beauty for a complete design.